KILLING PROPHET MUHAMMAD
A NEW BOOK BY JAKE NEUMAN
<!xml:namespace prefix = "o" /><!xml:namespace prefix = "o" /><!xml:namespace prefix = "o" /><!xml:namespace prefix = "o" /><!xml:namespace prefix = "o" /><!xml:namespace prefix = "o" /><!xml:namespace prefix = "o" />
<!xml:namespace prefix = "v" ns = "urn:schemas-microsoft-com:vml" /><!xml:namespace prefix = "v" /><!xml:namespace prefix = "v" /><!xml:namespace prefix = "v" /><!xml:namespace prefix = "v" /><!xml:namespace prefix = "v" /><!xml:namespace prefix = "v" /><!xml:namespace prefix = "v" />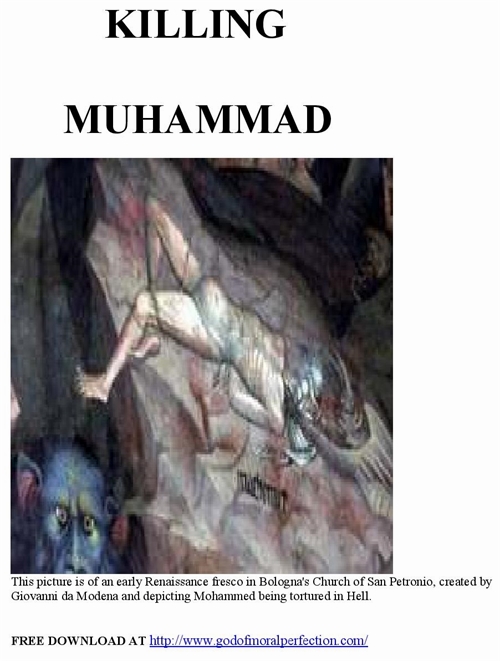 This picture is of an early Renaissance fresco in Bologna's Church of San Petronio, created by Giovanni da Modena and depicting Mohammed being tortured in Hell.
FREE DOWNLOAD AT http://www.godofmoralperfection.com/
President Obama: 'The future must not belong to those who slander the prophet of Islam'
WELL FUCK YOU MR. PRESIDENT
If mankind is to survive with its humanity and dignity, then the future must not belong to Muhammad and his Islam.
THERE IS NO ISLAM WITH A HUMAN FACE
PROPHET MUHAMMAD
A
MONSTER OF HISTORY
WITH NO HUMAN FACE
THE MESSAGE OF THIS BOOK
IS
DESTROY THE QURAN OR BE DESTROYED BY IT
PROLOGUE
PROLOGUE
In the year 570 AD, a baby-boy was born in Mecca, Saudi Arabia, who grew up to become a monstrous psychotic killer. He was none other than Muhammad, the prophet of Islam. This killer created a god of his own imagination, called Allah, and founded the religion of Islam, based on the Quran, a supposed holy book of the divine words of his imaginary Allah. Today, 1443 years after his birth, some 1.6 billion living human beings have sacrificed the very essence of their humanity, their souls, to this maniac psychopath, A Monster of History.
In my view, Muhammad was able to establish himself as the most important human individual in history. Yet, he embodies the totality of the evilness of the human species. And this evilness—which is perpetuated through the religion of Islam —has the potential to destroy the brighter side of the human nature in its completeness.
The creation of anyone of us is a miracle.

The birth of you, me, Muhammad - any human being is the greatest lottery of creation with odds in the zillions that over the millions of years of human evolution that our parents would be born, or their parents or their parents going backwards over all these millions of years and not only their births but their parents - our forefathers - grandmothers and grandfathers ever having met is so fantastic that rather then celebrate our oneness
, there are occasionally born individuals among us—the Monsters of History—who destroy others in their millions, each a miracle and glorious creation of God.
Adolf Hitler was one such Monster of History. In order for Hitler to have been born his father had to have sex with his mother at the exact moment that lead to Hitler's mother's egg cell being fertilized by his father's sperm cell. The moment of ejaculation by Hitler's father into his mother's vagina - not only did the timing that lead to the creation of Hitler have to be exact but the one sperm out of countless millions - that one sperm containing Hitler's DNA had to fight its way against all of its competitors on that journey of history in a mad rush to beat out the competition, If this Hitler sperm had arrived at the egg one second to late another sperm would have won the day and Hitler would never have been born.
There would have been no rise to power of National Socialism - the Nazis - no concentration camps - no Second world War. On the day Hitler was born, the death warrants of 55 million human beings was signed. Not only did Hitler's father have to ejaculate at this exact moment he did but Hitler's fathers father and his father all the way backwards had to do the same.
It is the same with the creation of another Monster of History—a greater one— Muhammad - the 7th-century madman of the Arab desert. For this madman to have been born, his fathers and his father all the way backwards had to ejaculate into the exact same women they ejaculated into to have lead to Muhammad's creation.. Without Muhammad there would have been no Islam, no monstrous God called Allah, no Quran. On the day Muhammad was born, death warrants of hundreds of millions of human beings were signed, with 270 million—120 million blacks, 80 million Hindus, 60 million Christians, 10 million Buddhists—perished in the Islamic holocaust and counting. Not only did these human beings perish but all their possible descendents by the billions perished - never to be born - never to know life.
This book - killing Muhammad - will not only concern itself with the assassination of Muhammad by a very brave Jewish woman after the Massacre of Khaybar but much more importantly will be the killing of the mythology of Muhammad - the Mythology that Muhammad was a prophet of peace who met the Angel Gabriel and received from Gabriel the verses of the Quran that God had transmitted to Gabriel for re transmission to Muhammad to compose the Quran. It will destroy this mythology establishing beyond the slightest of doubt that Muhammad never met Gabriel, that Muhammad's claim of receiving God's messages via Gabriel was patently false, that every word of the Quran was fabricated by Muhammad himself. In other words, this book will prove that the Quran is fraudulent, so is Islam, and that Muhammad was a complete fraud, not a prophet of God.
The mission of this book – killing Muhammad – will be achieved by destroying the credibility of the Sunna of Muhammad – just by exposing this Monster of History as is depicted in the Hadith and Sira and the Quran: a killer, mass murderer, child molester, rapist, terrorist, torturer – a prophet of monstrosity.
INDEX
ISLAM IS AN OBSCENITY 4
PROLOGUE 7
MUHAMMAD WAS ALLAH AND ALLAH WAS MUHAMMAD
MUHAMMAD AKA ALLAH AKA MUHAMMAD
MUHAMMAD THE CREATOR OF ALLAH 16
THE CRIMES OF PROPHET MUHAMMAD
THE CRIMINAL SUNNA OF MUHAMMAD 21
PROPHET MUHAMMAD: FIRST MUSLIM SAVAGE 24
The First Final Solution of Jewish Question of Muhammad
and the Quran 44
MASSACRE OFBANU QURAIZA 50
THERE IS NO ISLAM WITH A HUMAN FACE PROPHET
MUHAMMAD WAS A MONSTER OF HISTORY WITH NO
HUMANFACE 64
THE MASSACRE OF KHAYBAR
THE ASSASSINATION OF PROPHET MUHAMMAD 77
MUHAMMAD: A HUMAN BEING OF PERFECTION
MUHAMMAD: THE PERFECT HUSBAND AND FAMILY MAN 83
WOMEN ARE EQUAL OF MEN: GOD IS NOT A SEXIST:
GOD IS NOT A MALE CHAUVINIST PIG
ABSURD TEACHINGS OF THE QURAN – VERSES THAT ALLOWED
MUHAMMAD TO ANNUL THE ADOPTION OF HIS ADOPTED SON
AND MARRY HIS ADOPTED SON'S WIFE. CRAZY, CRAZY, CRAZINESS
MUHAMMAD SCREWING HIS ADOPTED SON'S WIFE
THE DEPRAVED SUNNA 111
­­­­­­­­­­­­TEACHINGS REGARDING MUHAMMAD'S WIVES AS ETERNAL
LAWS OF GOD: A TRAGIC SOAP OPERA 116
Islam in Action: Father Stones Daughter to Death
Stoning is integral to Islam, a part of it's Sharia Law – the divine
constitution of Allah. 122
Beheading: Allah's Justice in the 21st Century 127
ISLAM IS RACISM
THE ISLAMIC SLAVERY HOLOCAUST
RACISM: ONE OF THE GREATEST CRIMINAL ACTS BY MAN
AGAINST MAN
ISLAM IS THE MOST RACIST, BIGOTED, DISCRIMINATORY
IDEOLOGY EVER CREATED BY MAN (PROPHET MUHAMMAD
AKA ALLAH) 132
22 CATEGORIES OF ISLAMIC MURDER
52 REASONS MUSLIM MEN CAN KILL
SANCTIONED BY GOD
164 Jihad Unholy War Verses in The Quran 160
THE TRUTH OF THE ISLAM BOSTON MASSACRE
MYTH OF MODERATE MUSLIMS
ALL MUSLIM MEN ARE EQUALLY GUILTY
THEY ALSO SERVE WHO ONLY STAND AND WATCH 178
Jihadists in Kenya Mall Massacre: 'All Muslims Leave,
We Want to Kill Non-Muslims Only' 192
Teaching Islam to Children is Child Abuse Hate Crime 197
9:111 MOST EVIL DIABOLOGICAL TEACHING IN HISTORY 210
JESUS VERSUS MUHAMMAD
ISLAM IS A VERY GREAT SIN AND BLASPHEMY
AGAINST GOD AND JESUS
PARAGON OF EVIL PERFECTION
SUNNA OF EVIL 233
HATE FREE SOCIETY
ISLAM IS HATE CRIMES 237`
THE NEW ENLIGHTENMENT
REVITALIZATION OF DEMOCRACY
AND FREEDOM
DEFENSE OF AMERICA: DEMOCRACY AND FREEDOM ACT 266
ISLAM IS TREASON
JIHAD IS TREASON
SHARIA LAW IS TREASON 277
THE BANNING OF ISLAM: MAKING THE PRACTISE OF ISLAM
ILLEGAL: A POSSIBLE LAST, LAST, LAST RESORT 294
CITIZENSHIP: THE HIGHEST HONOR: THE GREATEST GIFT 303
WHERE ARE SARAH PALIN, MICHELE BACHMANN:
A MOMENT OF HISTORICAL GREATNESS
WHO WILL BE THE FIRST FEMALE ABRAHAM LINCOLN
Struggle for the Rights & Equality of Muslim Women: The Civil
Liberties Movement of Our Time.
EMANCIPATION OF WOMEN IS THE CIVIL RIGHTS ISSUE
OF OUR TIME 307
CONSTITUTIONAL AMENDMENT
DECLARATION OF THE EQUALITY OF WOMEN 309
IT'S RONALD REAGAN TIME
SHOW ISLAM NO RESPECT
YOU ARE NOT US
WE ARE NOT YOU
WHO WILL BE THE NEW REAGAN 313
President Roosevelt said in his 1932 inaugural address
"Only Thing We Have To Fear Is Fear Itself".
WELL–IT'S TIME TO FEAR, FEAR 313
THE END OF THE BEGINNING OR THE BEGINNING
OF THE END
Islam Is The New Far Right 317
Depraved and Diabolical Hadith and Quranic Teachings 334
ISLAMIC SEXUAL DEPRAVITY Page 336
MURDER AS A SACRAMENT OF THE ANTIGOD ALLAH AKA PROPHET MUHAMMAD page 430
WAR TO CONQUER THE WORLD FOR THE ANTIGOD ALLAH AKA PROPHET MUHAMMAD page 443
VIOLENCE COMMITTED FOR THE ANTIGOD ALLAH
AKA PROPHET MUHAMMAD page 452
SUICIDE KILLING: DYING AS A MARTYR FOR THE ANTIGOD AKA PROPHET MUHAMMAD page 471
TERRORIZE ENEMIES OF THE ANTIGOD:THE KAFIRS page 484
TORTURE THE ENEMIES OF THE ANTIGOD ALLAH AKA PROPHET MUHAMMAD page 504
JIHAD: UNHOLY WAR page 506
INTOLERANCE page 521
TYRANNY OF THE ANTIGOD ALLAH page 537
MEGLOMANIA OF PROPHET MUHAMMAD page 542
THE RELIGION OF PEACE page 559
LOOTING FOR THE GREATER GLORY OF THE ANTIGOD AKA PROPHET MUHAMMAD page 557
MUHAMMAD'S LOVE OFWORLDLY PLEASURES page 581
LUST OF THE PROPHET page 591
MUHAMMAD'S DEPRAVEDIMMORALITY page 602
LYING page 610
HELL FOR MUSLIM MENWHO DO NOT WANT FIGHT page 618
DIVINE INSPIRATION OF THEPROPHET page 635
INSANE HADITHS page 652
691 TEACHINGS OF IMMORAL DEPRAVITY page 685