THE ISLAMIC JIHAD LOTTERY <!xml:namespace prefix = "o" ns = "urn:schemas-microsoft-com:office:office" /><!xml:namespace prefix = "o" /><!xml:namespace prefix = "o" /><!xml:namespace prefix = "o" /><!xml:namespace prefix = "o" /><!xml:namespace prefix = "o" /><!xml:namespace prefix = "o" />
911 – THE GREATEST VICTORY IN THE HISTORY OF ISLAM AND THE GREATEST DEFEAT FOR <!xml:namespace prefix = "st1" ns = "urn:schemas-microsoft-com:office:smarttags" /><!xml:namespace prefix = "st1" /><!xml:namespace prefix = "st1" /><!xml:namespace prefix = "st1" /><!xml:namespace prefix = "st1" /><!xml:namespace prefix = "st1" /><!xml:namespace prefix = "st1" />USA AND THE WEST
WHEN YOU BELONG TO AN EVIL IDEOLOGY YOU ARE AS EVIL AS THAT IDEALOGY WHETHER YOU PERSONALLY COMMIT ACTS OF EVIL IN THE NAME OF THE IDEOLOGY OR NOT. INDEED YOU ARE AS EVIL IF NOT MORE EVILER THAN THE PEOPLE COMMITTING THESE HORRENDOUS ACTS OF EVIL.
THEY ALSO SERVE WHO ONLY STAND AND WATCH.
IF YOU ARE NOT WILLING TO FIGHT FOR YOUR FREEDOM THEN YOU DON'T DESERVE TO BE A FREE PEOPLE. FREEDOM IS NOT ONLY A RIGHT- IT IS A RESPONSIBILITY THAT MUST BE DEFENDED FOR FUTURE GENERATIONS.
STRETCHING FROM DEARBORNE MICHIGAN IN THE NORTH, TO LOS ANGELES CALIFORNIA IN THE WEST, TO MIAMI FLORIDA IN THE SOUTH, TO NEW YORK CITY IN THE EAST - AN ISLAMIC CURTAIN HAS DESCENDED UPON THE UNITED STATES
Behind this curtain, the greatest democracy the world has ever seen, a democracy that has enshrined the equality of all mankind, the equality of women with men, freedom of speech, freedom of the press, assembly, the separation of powers, freedom of religion, equality before the law and the Greatest Declaration in history:
We hold these truths to be self-evident, that all men are created equal, that they are endowed by their Creator with certain unalienable Rights, that among these are Life, Liberty and the pursuit of Happiness.--That to secure these rights, Governments are instituted among Men, deriving their just powers from the consent of the governed, --That whenever any Form of Government becomes destructive of these ends, it is the Right of the People to alter or to abolish it, and to institute new Government, laying its foundation on such principles and organizing its powers in such form, as to them shall seem most likely to effect their Safety and Happiness.
without a shot fired is being systematically destructed by the political elites who without the consent of the people are imposing Islam. From Mayors of cities, to Governors of States, to Congress, to both the Democratic and Republican Parties directly to the President, these political elites have formed a Government that has become destructive to the Life, Liberty and Pursuit of Happiness of the people.
911 was the greatest victory in the history of Islam and will go down in history as the greatest defeat America ever suffered because it has laid the foundation for the conquest and subjugation on the US and the West. Since 911, Islam has exploded throughout the country in both Mosque construction and application of Sharia Law in US courts.
I remember 911 as if it was happening 911/2014. I was driving to the bank when the radio announced a crash of a plane into one of the Twin Towers. I thought that something catastrophic had happened to the pilot since every pilot would do whatever is necessary to crash land his plane in the ocean. 15 minutes later, I was standing in line at the bank watching the smoking building when the second plane came into view - did a sharp turn and ploughed into the second twin tower. At that moment, I knew as we all did that - this was an act of war. I rightfully guessed immediately and said the name Osma bin Laden to a compatriot.
I was to discover later that my mother – in – law's best friend's son (25 years) who worked at the Twin Towers had a day off from work scheduled for 9/11. Late at night 9/10, he received a call from an associate who had taken ill and asked if he wouldn't mind covering the next day and in return he would trade his day off the following week. He left for work at 6:00 am on September 11 and was dead by 9:30 am. There must be dozens of stories just like his.
The 2.973 who were murdered on 911 were the very unfortunate winners of the first Islamic Jihad Lottery, to be followed by 13 massacred at Ft Hood and 3 killed, 264 wounded at the Boston Marathon massacre. These are not crimes in Islam but holy, divine, religious acts guaranteeing accession to a Paradise filled with lustrous eyed, full breasted virgins. Kafirs are sub-humans to Muslims possessing absolutely no humanity. The killing of 2,973 meant no more to Muslims then stepping on 2,973 ants. The 13 murdered at Ft. Hood meant no more to Major Hasan then killing 13 flies. The 3 murdered in Boston meant no more then squashing 3 cockroaches. These massacres are like driving your car late at night in the summer on a highway passing farmers fields and thousands of insects plaster your windshield with the juices of their dead bodies. In Islam, kafirs are no more then insects.
Whenever you visit a hospital, you will see many horrid sights of suffering. Young people with shaven heads dying from cancer. Others awaiting death. Unfortunately their death so young is a very great tragedy. What happened on 911 and the other massacres was not a natural death but murder at the hands of fellow Homo Sapiens. The death of any human being at the hands of another human being is like killing all mankind. The death of any human being by another human being in the name of and to the greater glory of God is such an obscenity as to be unprintable. For these murdered, murdered not only did they die but all their descendents that would have been born – countless generations after generations for the hundreds, thousands, millions of years to come - everything that might have been will never be. Their lineage wiped out for all eternity until the end of time.
Mosques are military fortifications which although opposed by the people have been forced on communities by these elites in acts that can only be described as treason. The ground upon which these mosques stand is now the conquered territory of Islam where US law no longer applies. From the top of the minarets adorning the Mosque as far as the Muslim man's eye can see is now the conquered territory of Islam where Sharia Law must apply as the rule of law.
The number of mosques in the United States has grown by 74 percent in the past 11 years – up from 1,209 in 2001 to 2,106 in 2011. The 10 states with the largest number of mosques – New York (257), California (246), Texas (166), Florida (118), Illinois (109), New Jersey (109), Pennsylvania (99), Michigan (77), Georgia (69) and Virginia (62).
Most mosques are located in metropolitan areas, with Greater New York City ranked No. 1 with 192 mosques. Southern California (120), Greater Chicago (90), Greater Philadelphia (63) and Greater Detroit (63) rounded out the top five metropolitan areas for mosque population.
To understand the grave threat these Mosques pose to the security of all Americans following is a map: (Article continues after Map)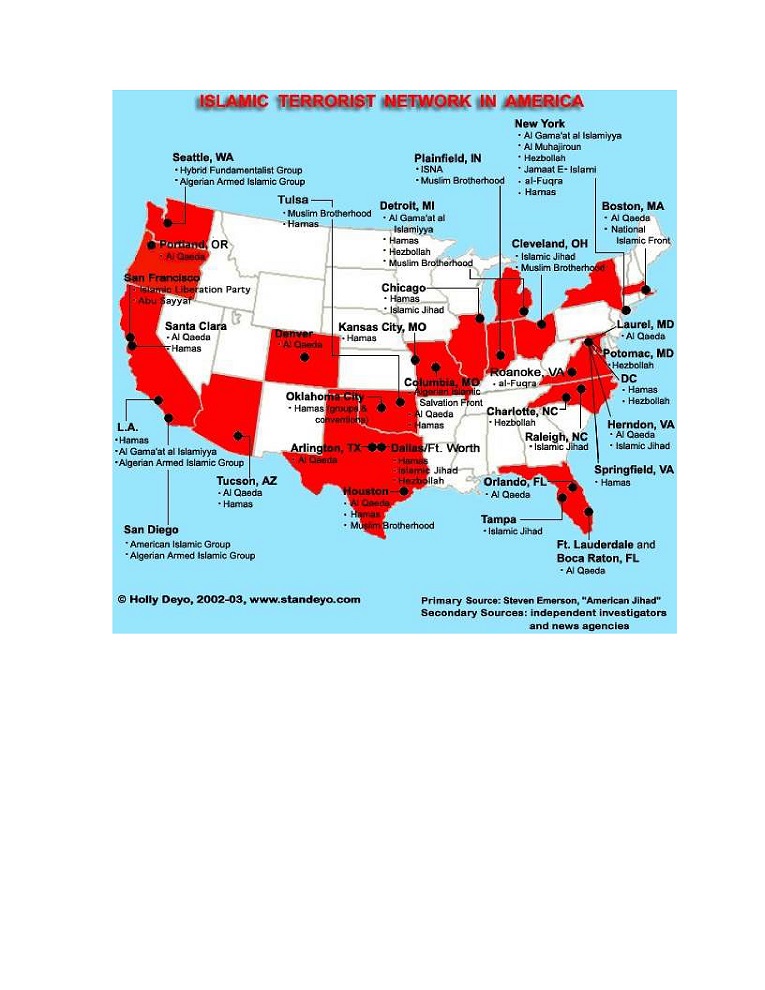 Repeating the reality of this map – when you walk or drive past a Mosque you are not only looking at a monument to a child molester, rapist, slaver, mass murderer, terrorist, torturer – prophet Muhammad but a conquered territory that is no longer part of the US. Without a shot being fired the United States is being systemically conquered. Gone are the days of the Battle of New Orleans, the defeat of the British armies, Japanese and German forces.
In these military fortifications, young Muslim boys are being taught shockingly Islam and trained to become soldiers of Allah, hate non - Muslims and go on jihad to conquer the world for Allah, destroy all world religions and murder all kafirs who refuse to convert to Islam. This is what our media and political elites call Self - Radicalization. Muslim men study the Quran and the Hadiths and then after reading such wonderful teachings like 5:33
"the penalty for those who wage war against Allah and His Messenger and strive upon earth [to cause] corruption is none but that they be killed or crucified or that their hands and feet be cut off from opposite sides or that they be exiled from the land. That is for them a disgrace in this world; and for them in the Hereafter is a great punishment"
Or Quran 47:4
"So when you meet those who disbelieve [in battle], strike [their] necks until, when you have inflicted slaughter upon them, then secure their bonds, and either [confer] favor afterwards or ransom [them] until the war lays down its burdens. That [is the command]. And if Allah had willed, He could have taken vengeance upon them [Himself], but [He ordered armed struggle] to test some of you by means of others. And those who are killed in the cause of Allah - never will He waste their deeds."
misinterpret these teachings that call for the killing in horrendous ways and then self radicalize and go out and "strike [their] necks until, when you have inflicted slaughter upon them" "that they be killed or crucified or that their hands and feet be cut off from opposite sides"
Mosques in both the US and Europe have sent literally thousands of Muslim men to join ISIS in Syria to be turned into killing machines murdering Christians and Yezidis destroying their homes and selling their women and children into sex slavery. Eventually these trained killers who are all good, moderate, moral Muslims most from well to do families following exactly the teachings of the Quran listed above and literally thousands of others will bring mayhem and destruction to the US and Europe.
"The ISIL speaks for no religion," President Obama said. "Their victims are overwhelmingly Muslim, and no faith teaches people to massacre innocents. No just god would stand for what they did yesterday and what they do every single day. ISIL has no ideology of any value to human beings…people like this ultimately fail. They fail because the future is won by those who build and not destroy."
ISIS speaks for Islam. ISIS is Islam in action following exactly the thousands of violent, evil teachings of the Quran/Sunna. Islam teaches Muslims to massacre kafirs who are given the democratic choice - convert to Islam or be beheaded. If you refuse Islam then your death is your own doing. ISIS is following exactly the Sunna of Muhammad who unleashed a firestorm across Arabia with 60 Jihad attacks massacring 3,000 plus including beheading between 600 to 900 Jews at Banu Qurayza selling their women and children into slavery and then spread throughout the Middle East, Asia and parts of Europe murdering over 1400 years 270,000,000 known as the Tears of Jihad. ISIS has the ideology of Islam and is supported by 92% of Saudi Muslims and 1 in 6 French Muslims or – 1,000,000. Right now the future is being won by the Muslims who have for the past 1400 years destroyed and not built and are 1.6 billion strong.
There are 4,000 EU Muslims and dozens of Americans fighting with ISIS in Syria/Iraq. These well trained Muslim killers will become the ISIS vanguard to attack both the EU and US. These 4,000 have EU passports giving then unlimited visa free access to the US heartland.
Every day has become for every American a contest to see who will win the next game of the Islamic Jihad Lottery. In addition - they will now have to face winning the ISIS Islamic Jihad Lottery.
You will leave home never knowing if you and your family will be blown to pieces in a mall, or in a Walmart, or at a celebration like New Years Eve, or at a football or baseball stadium or hockey arena. If you win this lottery, the TV cameras will capture your bloody body with arms and legs blown away, pools of blood everywhere, laying in shock a look of sheer horror on your face and then go to a commercial selling toothpaste. If you are unlucky enough to survive your broken mauled body will be your suffering until you die and nobody will give a damn.
We will all be told that this event was done by someone (not identified by the press as a Muslim until forced to do so) and then declared that this killer self radicalized after being rejected by the horrid, racist American society. We will be told the same old, same old - that the vast majority of Muslims are just wonderful, peace loving, peaceful people who have been made to feel marginalized. It is all your fault you were blown up – you racist, Islamophobe.
But your suffering and the slaughter of the other kafir winners of the Islamic Jihad Lottery was not in vain for by yours and their sacrifice, the self radicalized Muslim is guaranteed accession to a Paradise filled with virgins, he can happily rape and molest for all eternity. You should be happy and proud that the Muslim selected you to kill for by your eventual death due to your wounds and the death of all your compatriots you will have saved his immoral soul.
I had 2 uncles who fought against Hitler. It was a horrid experience that scarred them both mentally and physically for life. How can we make a farce out of the great sacrifice of millions of soldiers who saved democracy and freedom by surrendering to Islam. We are making not only a farce out of the blood, sweat and tears of these patriots not to mention the betrayal of hundreds of thousands of brave soldiers of a new generation following in their footsteps fighting and dying overseas but a mockery of the murder of all those brave New Yorkers on that horrendous day of 9/11, Ft Hood and Boston Massacre survivors. The spear of Islam has been plunged into the hearts of their loved ones. It's just a matter of time before a crane starts hanging women in the name of AntiGod Allah at the World Trade Center.
YOUR MORAL OBLIGATION AS A KAFIR
In fighting this very great evil as an editor, political commentator, politician, a free citizen living in a democratic society under a democratic constitution with a democratically elected government you have a responsibility to understand Islam. If you refuse to fight this evil, then you become part of the evil – encased in the evil and in many respects just as evil if not more evil then the followers of Allah (the AntiGod) and his messenger Muhammad. Ignorance is not an option and definitely no excuse. The future of democracy and freedom, Western Civilization, indeed even the species Homo sapiens is at stake. Sitting on your bum is not an option.